Our Story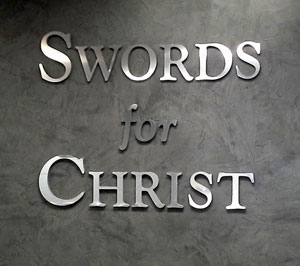 Swords For Christ started back in 1987.  It began as a simple Bible study with several nieces and nephews, and over the next couple of years it grew into a small youth ministry of about 60 teenagers.  It was not long after that the name "Swords For Christ" was born.
Our name comes from a combination of Hebrews 4:12, "For the word of God is living and powerful, and sharper than any two-edged sword," and being an acronym which means, "Supernatural Weapons Of Righteousness Destroying Satan."
As time went on, it became evident that the face of the ministry was beginning to change.  As the youth grew up and graduated from High School, we started adding married couples, and young families.
Swords For Christ was becoming more and more a church. Even though we weren't ready to start Sunday services until 1993, we started taking up offerings and rented a small building where we met once a week on Tuesdays.  Those were both exciting and precarious times for us as we stepped out on the water and filed for our non-profit corporation status.
After moving in and out of several buildings, we finally landed in the building we occupy now. September 1, 2013 marks the twenty-third year we have been incorporated.
And even though there are many new faces, as we've grown up and older, God has always been good to us; by blessing us, and continuously meeting whatever needs that arise.
As the founding Pastor, Bill Snider has always envisioned Swords as a Church intensely on fire to serve Jesus; armed with the power of the Holy Spirit and the Word of God; and overcoming everything Satan, sin, and the world can throw at us to bring us down.